| | |
| --- | --- |
| I finished canning the rest of the pears. Previously, I had canned 13 pint jars with a medium syrup. Thorny Guy is an excellent pealer and corer, aren't you Thorny Guy? | |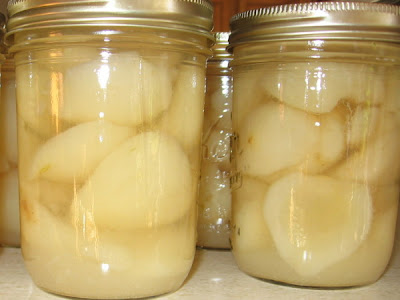 To reach the rest of the pears, I had to use our apple picker on a pole. I missed several which came crashing down, bruising when it hit the ground. The pears at the top of the tree are the biggest and best for canning like this. I did another 4 quarts, this time with a light syrup and honey, because I ran out of sugar.
Here is the chart Thorny Guy found on the internet for different types of syrup.
Per Pint
Per Quart
Syrup
Water
Sugar
Water
Sugar
very light
3/4 cup
1/8 cup
1 1/2 cup
1/4 cup
light
3/4 cup
3/16 cup
1 1/2 cup
3/8 cup
medium
3/4 cup
1/4 cup
1 1/2 cup
1/2 cup
heavy
3/4 cup
5/16 cup
1 1/2 cup
5/8 cup